Boat Hire
Hire price: $60 for one hour, $30 for each additional hour.
Locals discount: Book 1 hour, get the 2nd hour free within the same session. Offer cannot be redeemed online, you must contact us with proof of address to redeem.
No license required, we provide you with a thorough safety briefing and how to safely and properly manoeuvre the boat.
Minimum age: To drive one of our hire boats on your own, you must be 16 years of age. Anyone 16 or under can join only with a responsible adult over 18. Life jackets are required to be worn at all times for everyone under 12 years old. 
Four passengers per boat maximum. Two boats available for hire.
Fuel is included. Life jackets included and required to have on board. We have a jacket for almost all sizes. Lockers available to store your personal items. 
Fishing rod hire: $20 for the day, bait also available at an extra cost. Please ask Sunreef crew.
Both our boats have a sun shade canopy, and are easy to operate even for someone new to driving boats. They are perfect for a day on the water – visit La Balsa Park for a swim, picnic in the calm Mooloolaba River waters, go sightseeing or fishing! We will provide you of a map so you will be able to navigate through the waters.
Local fish include bream, whiting, dart, golden trevally and flathead.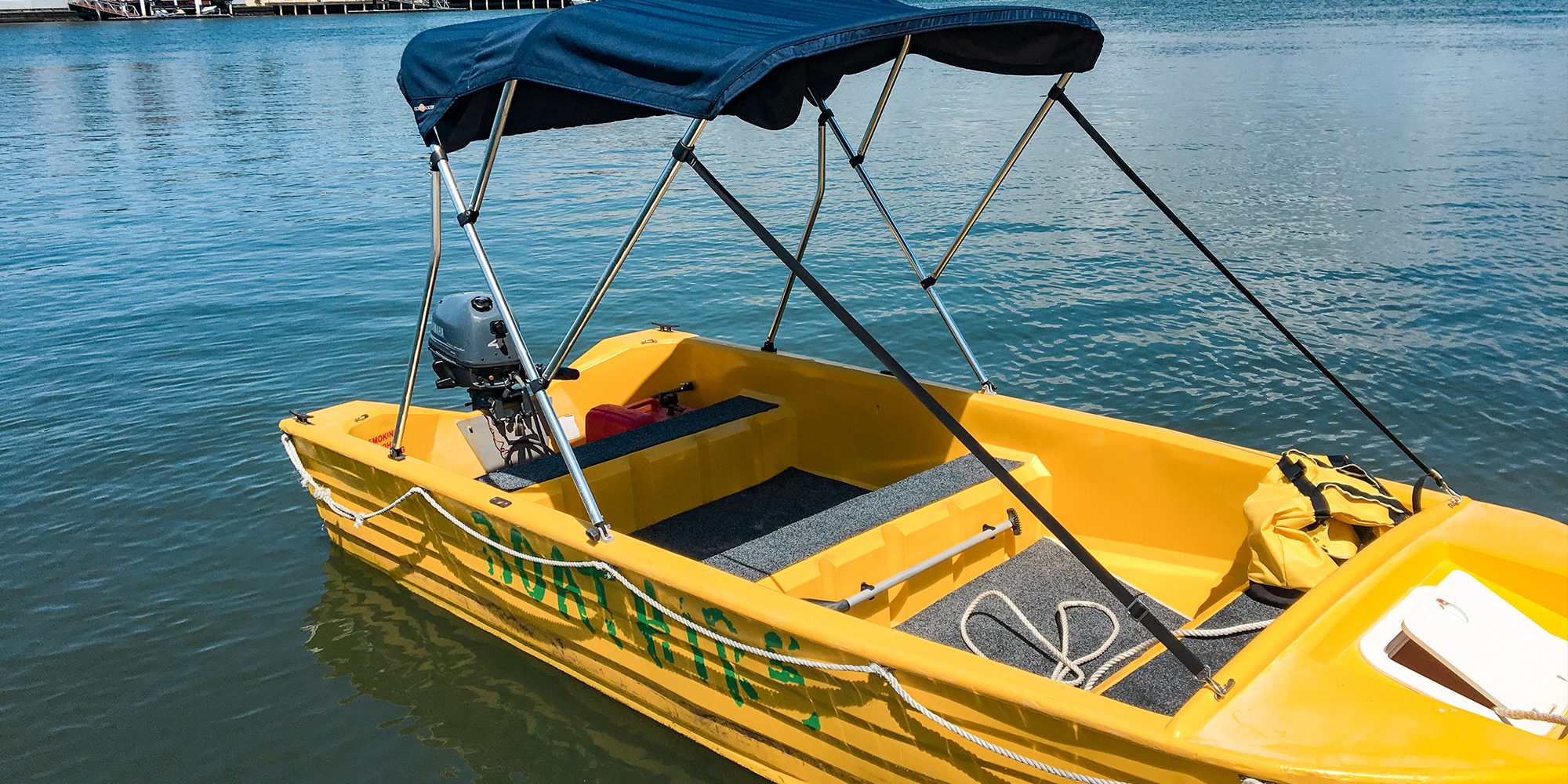 What if the weather turns bad?
If the weather turns and we have to cancel for your safety, we will rebook you for another day/time or provide a full refund.
Hire times
Monday – Saturday 9 am to 3 pm
Sunday 9 am to 2 pm
Earlier times will need to be pre-booked and are not always available, please call us to organize. 
Boat hirers please read
Each participant will be required to fill out a Sunreef Hire Boat Waiver before you start. You can fill this out beforehand or while you're in the shop
If you can swim and are over the age of 12, you will not be required to wear a life jacket. Life jackets for every passenger must be carried on the vessel at all times.
You must stay within the designated hire area (Mooloolaba River and Canals only). These boats are specifically NOT permitted to enter the ocean.
Zero (0) alcohol tolerance level is required of all participants. No alcohol is permitted on the boat. Smoking is not permitted on the boats.
All incidents or collisions that may occur during your hire must be reported.
Only people who have signed (or any children listed on) the boat hire waiver will be allowed to use the equipment.
You are responsible for your own safety and the safety of others – you participate at your own risk. You will be held responsible for injuries caused willfully or through negligence on your part.
You are responsible for the care of the equipment you hire, and accountable for damage. Any further costs can be brought against you necessary for the safe use and safety of the boat and fishing equipment.
The owners, management and staff of Sunreef Hire as well as The Wharf Mooloolaba marine services reserves the right to refuse, cancel or stop any hire at any time without a refund if a person does not adhere to these rules, or is negligent, remiss, not confident or a potential danger to themselves, other persons or property.
Parking: The Wharf complex has 4 hour parking available, however you will need to find suitable parking for the tour you are on as some of our trips will be over 4 hours. There are some unlimited parking spaces available outside of The Wharf Mooloolaba / SEA Life car park, however please keep in mind especially if you are on an 11:30 am or later trip that parking can get very busy. Please give yourself at least 15-20 minutes for parking. You can find a parking map of The Wharf Mooloolaba here.
Book your boat hire using our live calendar below