Jet Ski Hire
Hire price: $195 for one hour on the ocean. Session is two hours to also allow time for a briefing  and to get you out of the Mooloolaba River, please see session times below. Double up at no extra cost, this hire price is per jet ski. 
Local's discount: Book 1 jet ski, get the 2nd half price. (Save $97!) Prebookings only and must be done all in one session. Offer cannot be redeemed online, you must contact us with proof of address to redeem.
Two passengers maximum. Three jet skis available. Sorry, no swapping jet ski passengers halfway through experience.
No jet ski / personal watercraft license required, we show you all the necessary safety briefings, basic operational maneuvers, and all the tricks you need to have a fun and safe time.
*You MUST have proof of age to drive, we will be checking!*
Minimum age: To drive the jet ski on your own you must be 16 years of age. Anyone 12 to 15 can ride with a responsible adult over 18 as long as feet can fit flat on the floor. We're sorry, children under 12 are not permitted.
Life jackets included and required. We have something available for all sizes. Lockers available to store your personal items.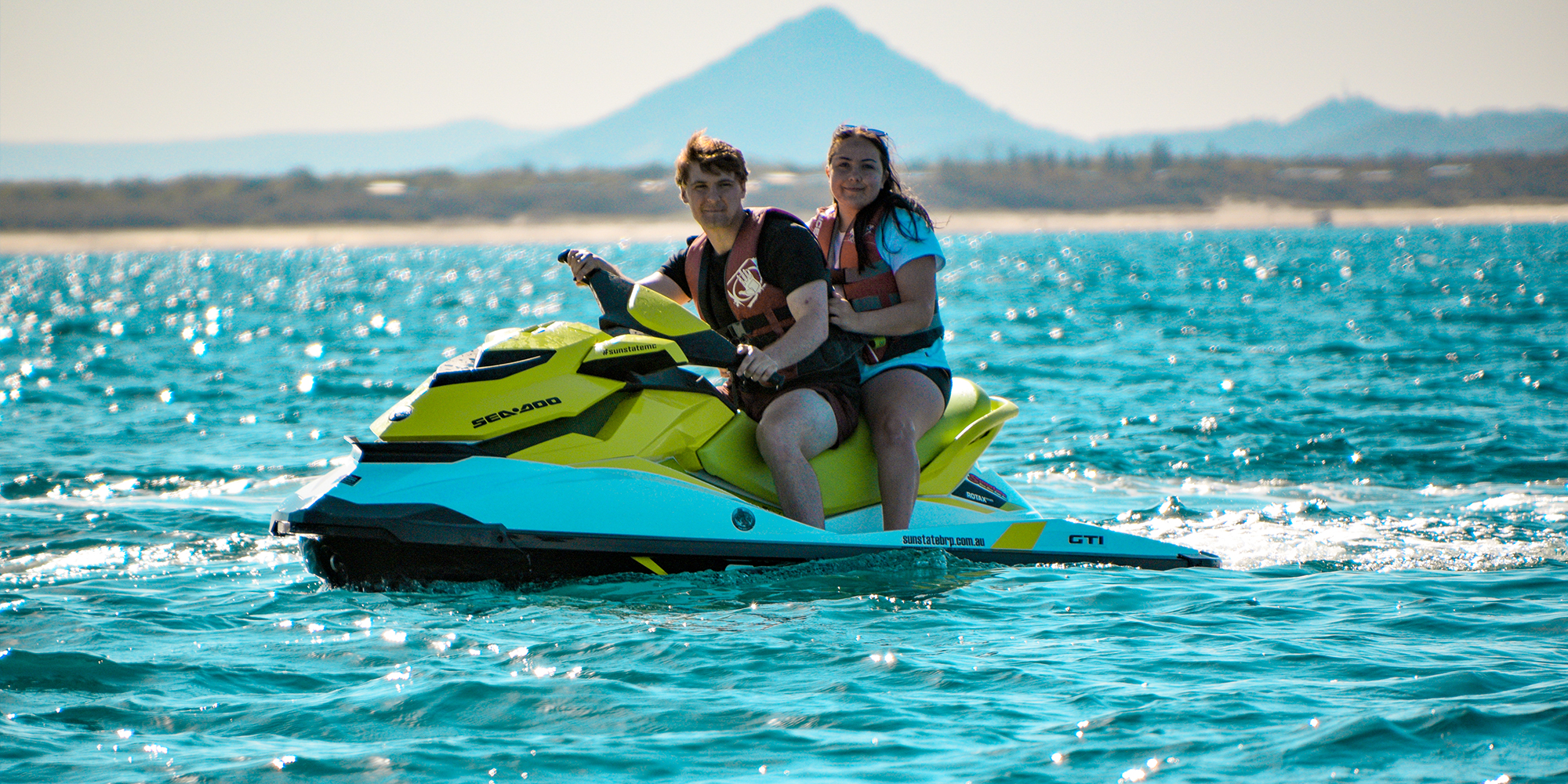 Ready to have some wet and wild fun?
Sunreef Hire Mooloolaba ocean jet ski hire is the largest and fastest jet skiing experience on the Sunshine Coast.
Rip it up in the bay out the front of Mooloolaba Beach. You'll have 3 square kilometers to ride freely at your own pace. Slow, medium, fast, or flat out! At Sunreef, we leave your ocean jet ski experience up to you to choose.
If you're keen to have a fun time this is the perfect choice to you – your cheeks may hurt from smiling so much!
At Sunreef, your safety is always our #1 priority – we will have our crew and a rescue boat with you at all times during your experience.
What if the weather turns bad?
If the weather turns and we have to cancel for your safety, we will rebook you for another day/time or provide a full refund.
Will you get wet?
Yes, you will get wet! We have changing rooms and lockers for you to put your items in if you need.
Hire times
Monday – Sunday Up to 3 sessions per day starting from 8:30 with the last session at 1:30
Other session times may be able to be arranged, please call us to organize.
Jet skiers please read
Each participant will be required to fill out a waiver before you start. This will be sent out via email and SMS before you arrive and can be filled out beforehand or while you're in the shop.
We have rules and regulations designed for your enjoyment while also considering your safety and the safety of others. Your jet ski hire will end immediately, with no refunds or rebookings if any rules are broken.
Jet ski rules:
– No wave jumping, the hire will be stopped immediately without a refund.
– You must wear your life jacket at all times.
– At all times you must stay a minimum distance of 300 metres off the beach.
– At all times you must stay a minimum distance from all other jet skis, watercraft, swimmers, paddlers, and the Sunreef crew boat.
– You must stay within the designated hire area at all times – you must have visual contact at all times with the Sunreef crew boat.
– Whilst riding through the Mooloolaba River, you must navigate in single file and respect the 6 knot maximum, no wash speed limit.
– When the Sunreef crew boat signals the end of your hire time, you must return immediately to the rendezvous point. The entrance of the Mooloolaba River is not a safe place for our crew to wait for you, so please be responsible.
You are responsible for your own safety, the safety of others around you and the care of your jet ski. You must understand that you will be riding at your own risk and are held accountable for any damage/injuries caused willfully or by negligence on your part. Further costs may be brought against you.
Zero (0) alcohol tolerance level is required to ride our ocean jet skis.
Please inform us and specify of any medical conditions you may have that could affect or be affected by riding a jet ski.
Only people who have signed the Jet Ski hire waiver will be allowed to use the equipment.
It is your responsibility to stay clear and give way of others in the water when riding your jet ski. If you are involved in a collision, even a small one, you must report to the Sunreef crew boat immediately.
We are watching you at all times, if you have difficulty or feel unsafe, please return to the rescue boat or wave your arms to attract further attention. Please wait on the jet ski if safe to do so, otherwise please use your best judgement to determine if you need to abandon the jet ski. Your life jacket will keep you afloat at all times.
The owners, management and crew at Sunreef Hire Mooloolaba ocean jet ski hire as well as The Wharf Mooloolaba marine services reserves the right to refuse, cancel or stop any hire at any time without a refund if a person does not adhere to these rules, or is negligent, remiss, not confident or a potential danger to themselves, other persons or property.